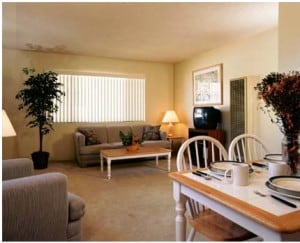 No matter what's the occasion for your trip to San Diego, you'll always have a blast exploring the fun town also known as America's Finest City. With beautiful beaches, eclectic neighborhoods, and fun nightlife, there is always something to do in San Diego.
So, if you are in San Diego due to military purposes, just remember that it's not so bad! With Foxwood Corporate Apartments' military accommodations, you'll wish that San Diego was your permanent home! We also have lots of additional space so you can bring your family along with you.
Our Navy and Marine housing provides active duty military servicemen with one- and two-bedroom fully furnished luxury apartments that are designer decorated, loaded with essentials, and all utilities are paid! What's even better? We also offer a special discounted rate for active duty military members and their families! You'll be staying at resort-style military accommodations for a fraction of the price!
At Foxwood Apartments, you won't have to worry about lengthy commutes either. Our accommodations are conveniently located near major freeways and just across the street from public transportation, so you can get to work in no time at all or see all of San Diego's attractions without any confusing directions. For the best in location, price, and accommodations, Foxwood Apartments is second to none!
As the most valued military housing in San Diego, Foxwood Corporate Apartments will certainly meet your needs during your temporary military assignment in America's Finest City. Visit us online for more details about our military housing, included amenities, and to view photo galleries of our apartments. We can't wait to be your home away from home in San Diego!