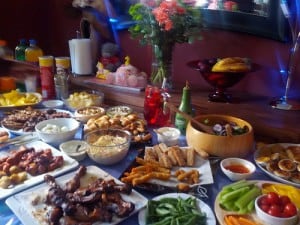 Everyone loves a summer party outdoors, however, there are many contenders to quickly spoil any outside bash. For a truly no-fuss party, here are some tips to keep the pests away and the guests happy.
Invitations!
Summer is a busy time for most people as kids are out of school and there are many events planned. Invite your guests early to assure there will be a good turnout at your outdoor party. To avoid grilling out multiple times, let your guests know what time they will be eating as well as if they should bring swimming suits, towels, or an extra dish to pass. Also, have a backup plan if it decides to rain; game night on TV or a session of board games are great alternatives.
Quick Decorations
Minimal decorations truly do go a long way when you're partying outside. Some table decorations are always a great way to keep the tablecloth from flying away and add some personal touches. My favorite outdoor party decoration has to be a piñata. Purchase a piñata and fill it with silly accessories like sunglasses or costume jewelry that will be great for pictures or fun toys like mini squirt guns, prank gifts, and lotto tickets. To make for an even playing field, have guests swing at the piñata before they've had too many margaritas!
Keeping the Mosquitoes Away
Keeping the mosquitoes away from your sweet guests may be a bit of a problem, especially if you're around a pool. Of course, have some bug repellent handy in case someone would like to use it. Fans are another way to reduce the amount of mosquitoes. Since mosquitoes are weak when it comes to flying, they usually stay clear of windy areas.
Give Everyone a Seat
Once your invitations are sent and RSVPs start to be received, take a quick assessment of the seating situation. You may need to convert your dining room chairs and extra stools into living room seating for the party. If you'd like to keep things casual, you can always spread out blankets for everyone to sprawl out on.
Go for the Classics with your Music Mix
Music is an essential part of any outdoor summer party. Plan ahead and set up a 5-hour playlist for you and your guests to enjoy. Typically parties don't last more than five hours, so this should be a good amount of time to plan for a list of songs. Classic hits from Michael Jackson, the Rolling Stones, the Beatles, and Kool n the Gang are perfect for keeping the tempo upbeat and enthusiastic. Another tip: When you play music at the party, don't crank the speakers. It's difficult for others to talk and socialize if they can't hear anything but the music!
Let there be Light
If your outdoor party is going to last after the sun sets, you'll need to provide some lighting for after hours. A simple strand of lights will create an intimate ambiance that is so beautiful at outdoor parties and events. Another creative idea is to use electric candles so that they won't be blown out by the wind.
Keep your Guests Cool
When you're planning an outdoor party during hot summer months, have a way for guests to cool off. Provide them with fans or cold washcloths in the cooler, this way you'll avoid any bouts of fainting or sun sickness.
These tips and tricks are a surefire way to have a stress-free outdoor party that you can enjoy along with all your guests. Plan a wonderful end of summer party to create a memory that everyone will cherish!
Photo Credit: Buddaboy