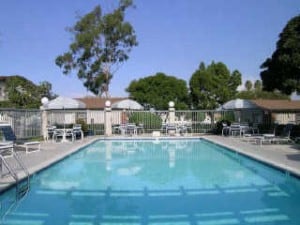 Just imagine a business stay that actually feels like a vacation! If you think that thought is next to impossible, you've never lodged with us at Foxwood Corporate Apartments!
We spice up any ordinary business trip to San Diego with sensational views, incredible rooms, and all the amenities you could ever dream of!
When you arrive at our corporate housing, you'll instantly feel relaxed by the country club ambiance in addition to the heated pool and spa that serve as the centerpiece of our business accommodations. The surrounding greenbelt garden park is so beautiful that it would be wrong not to enjoy it! Go for a walk, lounge by the pool, or soak in the relaxing Jacuzzi… you'll feel at ease in no time at all. For the perfect escape from business meetings and the corporate world, spend your time after work hours with us at Foxwood Corporate Apartments.
Once you step into your corporate suite, you'll be blown away by the spacious layout and comforting designer décor. In between the full-size kitchen and large living room is a quaint dinette that is ideal for power breakfasts or a quick dinner before you hit the sack. Within the full-size kitchen, you'll enjoy all the kitchenware, cookware, and utensils needed to whip up a home-cooked meal or heat up a convenient snack in the microwave. We have everything you'll need to feel right at home.
Our corporate housing also has many additional perks from fresh linens and fluffy bath towels to weekly maid service as well as copy and fax services. Whether you're on the go or working from your corporate accommodations, we provide everything you'll need for a convenient and comfortable corporate stay.
If you want to relax during your business trip, contact us today for more details on our superior corporate housing in addition to our loads of amenities. We guarantee that a corporate stay at Foxwood will be nothing short of luxurious!