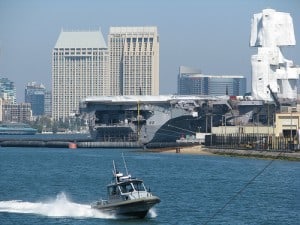 A local sailor was found dead on Tuesday, September 3rd, aboard a Navy patrol boat that was anchored in the San Diego Bay, according to authorities. The patrol boat was located just north of the Midway Museum in San Diego.
The fatality was noted on Tuesday shortly after 4 p.m. close to the Broadway Pier, as stated by the San Diego Fire Rescue Department. The death of one Navy sailor was due to a shooting, however, the Navy Region Southwest Public Affairs said that no foul play was involved in the death of the sailor.
According to NBC San Diego, Navy and San Diego Harbor Police boats were seen on the pier going to investigate the scene; there were many frantic people aboard these ships descending to meet the Navy patrol boat.
Medics quickly pronounced the victim as dead at the scene. The name of the sailor is being withheld until family notification is fulfilled.
Navy spokesman Brian O'Rourke said that the Naval Criminal Investigative Service (NCIS) took charge of the investigation immediately and is working hard to discover the source and preface to the shooting.
Because the death did not look like a homicide, the authorities were not looking for suspects as of Tuesday night but they are working on discovering resolutions to the matter.
Although the cause of death is still uncertain, there will be a release revealed in the near future to define closure on this tragic event. The end of this sailor's life is a devastating tragedy for San Diego and we hope that his family and friends will find relief and necessary closure through these investigations.
Photo Credit: Rennett Stowe