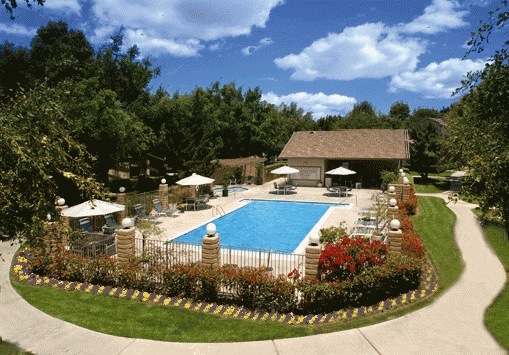 Do you have business meetings and corporate events planned in San Diego? With business travel increasing to the booming San Diego business industry, corporate accommodations are a must for frequent flyers. For a reliable stay that combines practical living with resort-style characteristics, Foxwood Corporate Apartments will make you feel at ease during business stays.
Even though you're on a corporate trip to San Diego, you must have a good time too! When you stay at Foxwood Apartments, you'll have a business suite that's fully furnished in designer décor and living essentials. The heated pool and spa are just steps away from your front door so you can indulge in some relaxation whenever you'd like. The well-manicured landscape and immaculate gardens frame the greenbelt garden park that Foxwood Apartments is situated on. It feels like a country club but it's the relaxing environment of San Diego's corporate housing!
Another wonderful feature of Foxwood Corporate Apartments is the location. Our apartments are just blocks away from the I-805 and I-5 freeways. With easy access to the major freeways and onsite parking, you'll be cruising around San Diego within minutes. For business or pleasure, the convenient location gives you an easy commute to all of San Diego's unique communities.
Indulge in a corporate apartment that satisfies all your needs. From fully stocked kitchens to weekly maid service, your corporate housing will have it all. Visit us online for more information about corporate housing packages or to view photos of our apartments. We look forward to assisting you during your corporate stay in America's Finest City.