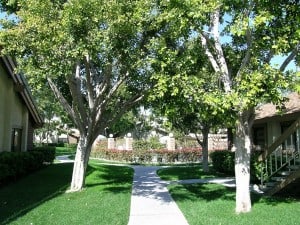 Foxwood Corporate Apartments is redefining the way you envision corporate accommodations. Typically, business trips are seen as an interruption to your everyday work routine. The hassle of traveling to another city and spending a few days in a less-than-perfect hotel can be strenuous on any businessperson; however, we have a completely different way of looking at your corporate trip.
If you're coming to San Diego to conduct business, it's essential to have a great place to stay where you feel comfortable and relaxed. At Foxwood Corporate Apartments, our fully furnished business accommodations are suitable for top business execs or traveling sales teams that need spacious corporate housing with a convenient location. Each and every one of our 130 one- and two-bedroom corporate apartments has been designer decorated with luxurious design elements, upscale furniture, and colorful wall art. You will love coming back to your business trip accommodations feeling as if you just walked through the front door of your home.
In addition to gorgeous furnished apartments, Foxwood Corporate Apartments has many great features to make your trip seem more relaxing than any other corporate accommodations you may have experienced in the past. At Foxwood Apartments, we have on-site laundry facilities, an abundance of parking in our extensive lot, weekly maid service, a heated pool and spa, free Wi-Fi, and copy and fax services. You can choose to work from your corporate housing or use it as a home base while working long days at the office.
Your corporate stay at Foxwood Corporate Apartments will be the envy of many, with affordable rates, a lot of space, and so many luxurious features, you will enjoy every moment of your stay with us. Contact us today to reserve some necessary living space in our superior corporate housing. We look forward to your business trip to America's Finest City!